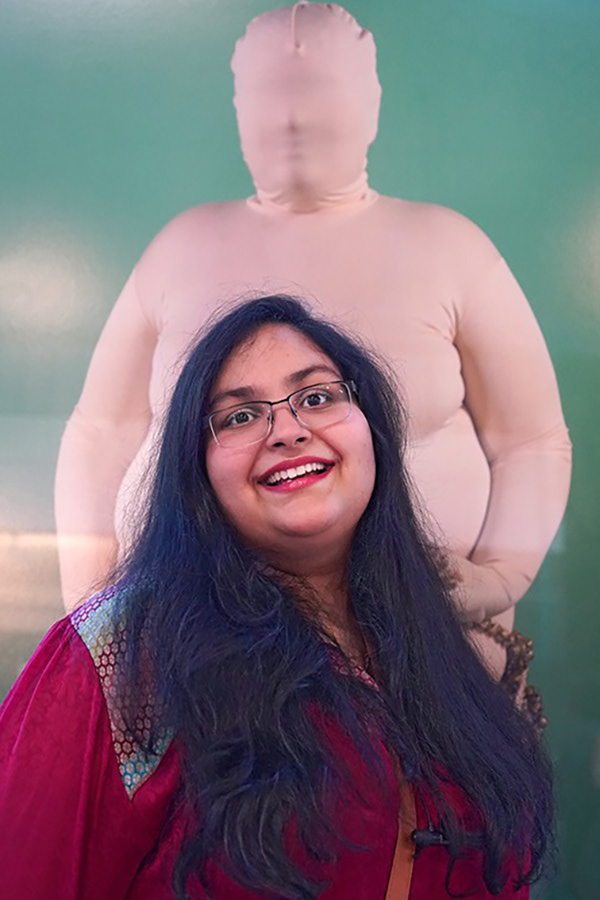 Jetshri Bhadviya is a multi-media artist, curator, designer and an art educator living in Michigan, USA. Bhadviya currently works as a Special Lecturer at Oakland University (OU) in the Photography Department and as an Adjunct Professor at College For Creative Studies (CCS) in the Foundation and Fine Art Department. She also completed her one year full time AICAD Teaching Fellowship at CCS in the Photography Department.
Through photography, videography, sound, and performance, she explores how bodies activate a space and how they are perceived in a social, political, and spiritual environment. She is interested in awkward, surreal, unnatural and unorganized bodily states by objectifying the body and the space it exists in. Bhadviya's works question gender and identity politics by highlighting the social interactions with other people and social exchanges such as agreement, disagreement, and negotiation. Generating conversations to deepen the connection between mind, heart, soul and body beyond the social constructs to connect with an authentic-self are some of the experiences her performance and sound pieces bring. 
She has conducted workshops at Cranbrook as the Photography Department Assistant and was a teaching assistant at American University in Dubai. Her professional experience includes serving as a videographer for the Detroit Skyspace Project of James Turrell at the Detroit Riverfront and Curatorial Assistant in the Contemporary Department of Detroit Institute of Arts. She has additionally worked as a freelance designer, photographer, and instructor for a number of organizations in Dubai. She has exhibited her work in many places including The Peanut Factory in North Carolina, Cave Gallery, Detroit Symphony Orchestra Hall, and David Klein Gallery in Detroit, the Arts at California Institute of Integral Studies in San Francisco, the Grand Rapids Art Museum, and the Society of Photographic Education in New Orleans, as well as many venues in Dubai.
The Sheikha Manal Young Artist Foundation named her one of the top- ten artists in Dubai in 2011; she also received the Toby Dewan Lewis Fellowship Award in 2015 presented to only 15 graduating MFA students in US every year.